Light and durable! Rare wooden brief case
This is a brief case made out of natural wood.
It is possible to carry documents or a PC easily.
The natural grain is beautiful.
It will match for all ages and be able to be used in various scenes.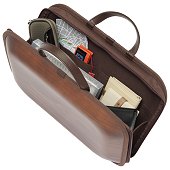 B4 size documents or notebook computer of 17 inch size can be put.
The surface is water-repellent coated. The handles are made of genuine leather and the edge, side, inner side are made of canvas cotton.  Opening/shutting of the bag is a fastener type.
There are inner pockets. 
Regardless of the season or location, you can use it in a wide range of scene.
The material is good quality Japanese cedar "Yanasesugi"produced in Umaji village, Kochi prefecture that has been familiar as good building materials from ancient times. The body is made out of some thinly sliced cedar that were piled up in layers and pressed together to create the lightness and the durability.
It is possible to use long, the beautiful texture of natural wood will get more tasteful.
The plain series stands out in its plain natural texture or in its beautiful wood grain among them.

It is so light that it can be used for daily life.

Because it is made by layers of thinly sliced cedar, it is very light.
It is convenient to carry documents, PC everyday.
Since it is water-repellent coated, safe even when it gets wet with water!
Even if it gets wet, it is OK just to wipe off with a cloth.


Rich texture of natural wood!
Among many kinds of cedar, Yanase cedar of the material has less knots and looks beautiful and be smooth to touch. You will enjoy pleasant feel.
Because of the natural materials, each is different.
Enjoy the grain of only your own!


The more the taste increases the more you use. You can enjoy the texture of your own!

「Especially about plain series, these are not dyed and you will enjoy the changes the most of all. The color turns to just like a baked bread.」 The producer says so.
This bag, is familiar enough to wear, taste comes out the grain. How to increase the taste also not constant, texture because varies to suit the use, in Komu use, to match the personality of the caster, you can enjoy the original texture!
1% of the sales amount is returned to the forest!

Thinning materials of cedar is used for this bag. These are from Umaji village in Kochi Prefecture in Japan.
In forests that have not been (felling trees at appropriate intervals) thinned trees grow densely and can't get enough sunlight and the growth of the trees become worse and the forest itself will weaken.
If tree thinning isn't be done to forests, forests are weakened rapidly. Due to the decline of forestry in recent years, such thing is increasing in Japan.
Umaji Village Office that forest area accounts for 96% of the village started a project to create products with the thinned cedar and the benefits are returned to their forest. Wooden bag is one of them. 1% of sales of the thinned wood products are utilized for conservation of forests.
It's a wood bag full of their feelings to want to grow forests and protect them.


At the Hokkaido Toyako Summit Secretariat, this bag was used!
In Hokkaido Toyako Summit in 2008, at the Secretariat of the Ministry of Foreign Affairs, this wood bag of Umaji village was used!
The producer Mr Kamiji tells that this wooden bag was used because it had been thought to match the summit that environmental issues were discussed.
Umaji Village office workers and villagers of about 1050 people join this project together and this wooden bag was born.
Therefore it was very honor and they were happy.


Durable and supple! Yanase cedar known as a building material from ancient times in Japan.
Yanase cedar is of good quality, supple and tough and was priced 30 million yen once.
Because they grow up in rainy regions, resistant to moisture, it has been used heavily as a building material from ancient times. Also in construction of Edo Castle and Nijo Castle, it was used.
In addition, the thinly sliced cedar of this bag is overlapped alternately
and assembly pressed. By doing so it gets stable and strong like plywood, the possibility to get broken up gets less than a single plate and it can enhance the durability and longevity.
The crafting process of a wooden Bag of Umaji village

It takes over a month and a half to complete a bag.
Also, there is no ill effect on the human body even if children get the glue used in this product in their mouth by any chance because it cleared the standard "Food Sanitation Act".

(1)The thinning lumber of Yanase cedar is shipped to domestic timber basin (market) once.
Then, in sawmills of Umaji village it is cut to the size of 130mm × 130mm × 4,000mm. further, at the factory, it is cut from the size of the 4,000mm to 2,000mm.

(2)The cut square timber is pressed.
The four timbers are assembled in a bundle and fastened four pieces together by applied pressure and glue from three directions and glue. The part of section in the wood is brittle and weak, by assembly pressing the strength increase.

(3)It is boiled in hot water of 90 ℃ for 10 hours.
Extra glue attached to the wood is removed to soften the wood and make it easier to slice.

(4)It is sliced in the machine of the mechanism which is like a carpenter's tool, "Kanna" to 0.5mm.
the sliced cedar is boiled.
About 200 pieces of sheets are produced from a set of the four square timbers.

(5)The sliced cedar is cut to the size of each product and glued.
6 pieces of the cedar sheet are overlapped in direction of the grain alternately.
So that there is no effect on the human body even if children gets in the mouth by any chance, the glue used at this time is the one that meets the standard "Food Sanitation Act".

(6)The overlapped ceder sheets are set in a mold of each bag and then press-molded by heat and steam.

(7)The surface is carefully polished by hand for approximately 40 minutes.
If it is not polished, the surface is too rough to be colored.

(8)It is colored to each color (plane, tannin, brown, and black) in urethane paint and made a waterproofing.

(9)Fabrics and natural leather are sewn of the materials of a bag together and sewn to the cedar plates. Sewing wood directly by machine is an own technology only at Umaji village.
"So that the strength of seam increases, we also modified sewing machine itself." (Kamiji producer says)

(10)After inspection, a wooden bag is complete.

The care

When it gets wet, please wipe with a dry cloth as soon as possible. ※ If by any chance, dirt sticks, please wipe off dirt gently with a cloth impregnated with household detergent diluted in water. 
Product data
Product Name: Monacca kaku plain
Material: cedar, cotton canvas, natural cow leather
Use paint: Waterproof Eco-urethane paint
Use adhesive: vinyl acetate-based bond (not including the Holm Alm dehydrogenase)

Size: 300 ~ 460 ~ 75 mm
Weight: about 830g
Load weight: about 3kg
※ Because of the natural materials, wood is different for each product. Please enjoy the texture of the grain of only yourself.